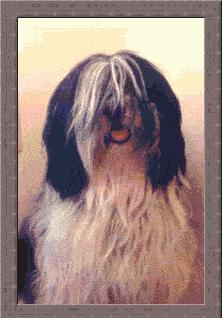 Homemade Doggie Treats

Basic Dog Biscuits


2 cups whole wheat flour
1/3 cup corn meal
1/2 cup soy flour
1/2 cup ground seeds
1/2 teaspoon salt
1 tablespoon linseed oil (available in health food stores)
1 tablespoon vegetable oil
1/4 cup unsulfured molasses
2 eggs
1/4 cup milk Combine dry ingredients in a bowl. Mix to blend. Add the liquid ingredients. Stir, adding more milk if necessary to make a ball that can be kneaded and rolled out on a cutting board. Roll out dough, and cut out dog bone shapes using a cookie cutter or knife. Place on a well-greased baking pan, and bake at 350 F for 25 to 35 minutes, or until browned.







CHEESE BONE DOG COOKIES

2 cups Unsifted all-purpose flour
1 1/4 cups Shredded cheddar cheese
2 cloves Garlic, finely chopped
1/2 cup Vegetable oil
4 1/2 tb Water (up to 5 tbs.)

1. Preheat oven to hot (400 degrees) 2. Make a cardboard pattern of a dog bone, 4 inches long or use a dog-bone cookie cutter. 3. Combine flour, cheese, garlic and vegetable oil in container of food processor. Cover, whirl until mixture is consistency of coarse meal. With machine running, slowly add water until mixture forms a ball. 4. Divide dough into 12 equal pieces. Roll out each piece to 1/2" thickness. Cut out bones. Transfer to ungreased cookie sheet. Do not reroll scraps. 5. Bake in preheated hot oven for 10 to 15 minutes or until bottom of cookies are lightly browned. Carefully transfer bones to wire rack to cool completely. Refrigerate in airtight container.


Cheese Bacon Biscuits


3/4 cup whole wheat flour
1/2 tsp. baking soda
1/2 tsp. salt
1 stick margarine, softened
2/3 cup brown sugar
1 egg, slightly beaten
1 1/2 tsp. vanilla
1 1/2 cups regular oats, uncooked
1 cup (4 oz.) shredded cheddar cheese
2/3 cup wheat germ
1/2 lb. bacon, cooked crisp, drained, and crumbled Combine flour, soda and salt; mix well and set aside. Cream butter and sugar; beat in egg and vanilla. Add flour mixture, mixing well. Stir in remaining ingredients.

Drop dough by rounded teaspoons onto ungreased baking sheets. Bake at 350 for 16 minutes. Cool on baking sheet for a minute or so before removing to cooling rack.



Great Dog Biscuits


12-16 ozs. raw liver
1 1/2 lbs. white flour
8 ozs. Quaker Oats
3 bouillon cubes, (meat or chicken flavored)
Approx. 1 cup water

2 eggs, beaten Preheat oven to 350F. Grease 3 baking sheets. Chop the liver finely, by hand or in food processor. Mix flour and oats, crumble in the bouillon cubes, add eggs and the chopped liver. Add enough water to make a firm but slightly sticky dough. Spread evenly on the sheets about 1/2" thick. Dip a small dog-biscuit cutter in flour before cutting out each portion. Remove uncut parts. Spread out on another cookie sheet and repeat. Bake 1 hour. Store in airtight container in fridge for 2 weeks.




Peanut Butter Treats

2 1/4 cups whole wheat flour

3/4 cup all purpose flour

1 1/4 Tbsp baking powder

1 1/4 cup peanut butter

1 cup milk

Combine flour and baking powder in a large bowl.

Combine milk and peanut butter in a separate bowl and mix until smooth.

Gradually stir peanut butter mixture into flour in the larger bowl.


Knead dough by-hand and roll-out on floured surface to desired thickness. Cut-out treats. Place aluminum foil on cookie sheet and bake 15 minutes at 400o . Cool before storing. Note: cooking time may vary depending upon thickness.

Peanut Butter Biscuits


1 cup flour
1/2 cup milk
2 Tbs peanut butter
¼ cup grated parmesan cheese
1 tsp baking powder
1 egg white
1 Tbs chicken broth Mix flour and milk until lumpy. Add peanut butter and broth. Mix parmesan cheese with first 4 ingredients. Add egg white. Mix well or until it has the consistency of pancake batter. Add baking powder. Pour onto greased cookie sheet, making 2" drops. Bake at 400F for 15-20 minutes until golden brown. Cool.


Liver Biscuits
1 cup whole wheat flour
1 cup cornmeal
1/2 cup wheat germ
1 teaspoon garlic powder
1 pound beef liver
Pre-heat oven to 350.

Liquefy liver in blender, add dry ingredients. Grease cookie sheet. Drop teaspoonfuls of mixture onto cookie sheet and flatten with bottom of glass dipped in water and cornmeal. Bake for 15-20 minutes.

You may store baked or unbaked dough in freezer. This makes a big batch, so share some. They smell absolutely wonderful to dogs. Your family make not like the smell of them baking.












Salmon Treats


1 8 oz. can salmon with juice
1/2 cup chopped parsley
3 eggs, shells included
1/2 cup sesame seeds ground up in coffee grinder
1/2 cup flax seeds ground up in coffee grinder
2-3 cups potato flour Put these ingredients into a food processor, mix VERY WELL. Pour potato flour through the opening while the motor is running. I can't tell you exactly how much, but I would guess about 2-3 cups. When the dough forms, like a pie curst, and rolls into a ball it is ready to take out.
Dump this mess onto potato floured counter or board. Knead more flour into this and when it is a rolled out cookie consistency, it is ready to roll out into about 14 inch thick. I use a pizza cutter to roll our long strips and then cut crosswise to make small squares . If you want FANCY you may use a cookie cutter. Bake on cookie sheets, sprayed Pam or line the sheet with parchment paper. I put in as many as will fit. Usually two whole cookie sheets suffices. I bake this in a 375º oven for 20 min. Turn and rotate the cookie sheets and bake about 10 more minutes. You can make them as soft or as hard as you want.





Tuna Biscuits


1 cup yellow cornmeal
1 cup oatmeal
1/4 tsp. baking powder
1/2 tsp. garlic powder
1 small can tuna in oil , undrained
1/3 cup water Grind oatmeal in processor to make a coarse flour. Set aside in small bowl. In food processor, whirr tuna with the oil, and water then add all the rest of ingredient. Pulse til mixture forms a ball, Pulse to knead for 2-3 minutes. Knead on floured surface till it forms a soft ball of dough. Roll out to a 1/8"-1/4" thickness. Cut into shapes. Bake on lightly greased cookie sheet , at 350 for 20-25 minutes. Cool completely.




Veggie Dog Biscuits

2 1/2 cups flour
3/4 cup powdered
1/2 cup vegetable oil
2 tbs. brown sugar
3/4 cup Vegetable Broth
1/2 cup carrots -- optional
1 egg

Preheat oven to 300F. Mix all ingredients into a ball and roll out to about 1/4" thick. Cut with bone-shaped cookie cutter, or strips, or a cutter shape of your own choice. Place on ungreased cookie sheet and bake 30 minutes at 300F.