Microwave Cooking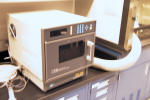 Casserole with Pasta, Ham and Veggies

1/2 cup finely diced celery
1/2 cup chopped onions
2 cups cooked, drained pasta
2 cups cooked, diced pork or ham
1 cup drained peas
1 can (10 3/4 oz.) condensed cream of mushroom soup
1/3 cup skim milk
2 tablespoons water
2 tablespoons chicken bouillon granules
2 tablespoons dried seasoned bread crumbs
1/4 cup grated cheddar cheese

Place onion and celery in 3 quart microwave casserole. Cover and cook for 2-3 minutes or until vegetables begin to soften. Stir in meat, pasta and peas. Mix bouillon, which has been dissolved in water, with soup and milk. Mix with meat/pasta mixture. Partially cover and cook on Medium-high power (70%) for 10-20 minutes. Uncover and sprinkle with crumbs and cheese. Heat an additional 1-2 minutes, uncovered, until cheese is melted.




Creamy Chicken and Rice



1 pkg. dry onion soup mix
1 c. minute rice
1 c. water
¼ c. grated Parmesan cheese
6 skinless, boneless chicken breasts
1 c. milk
2 cans cream of mushroom soup
2 cans sliced mushrooms
½ tsp. salt
¼ tsp. pepper. Place water and rice in a microwave-safe bowl. Cover and cook on high for six minutes. Let stand for five minutes. Arrange chicken on a microwave-safe platter, cover and cook on high five minutes. Rotate chicken. Continue cooking covered on high for an addition two to four minutes, or until chicken is no longer pink. Drain. Combine soup mix, milk, mushrooms and cream of mushroom soup with cooked rice. Spread in the bottom of a large microwave-safe dish. Add cooked chicken breasts. Sprinkle with salt, pepper and Parmesan cheese. Cover and cook on 80 percent power for five minutes. Rotate. Continue cooking covered on 80 percent power for an additional two to four minutes, or until heated through. Let stand five minutes before serving.
Yield: 4 Servings
Chicken Amandine

2 Servings

4 Slices bacon - each
1/3 c Chopped fresh mushrooms
1/4 t Snipped chives
1/4 c Chopped almonds toasted
1/4 t Dried thyme, crushed
1 Whole chicken breast (each)
Plain yogurt or sour cream
Sliced almonds toasted
Snipped chives


For filling, place bacon slices in a 10x6x2-inch baking dish: cover loosely with waxed paper. Cook on 100% power (HIGH) about 4 minutes or till crisp. Drain off fat, reserving 2 tablespoons drippings in the baking dish.

Add mushrooms and 1 tablespoon chives to reserved drippings in dish. Cook, covered on high for 45 to 60 seconds or until tender. Stir in bacon, 1/4 cup almonds and thyme.

Skin, bone and cut chicken breast lengthwise in half. Place one chicken piece, boned side up between two pieces of clear plastic wrap. Working from center to edges pound lightly with meat mallet to form a rectangle about 1/8 in thick. Remove plastic wrap. Repeat with remaining chicken. Sprinkle 1 side of each chicken breast half with salt and pepper.

Place about 2 tablespoons of filling on the seasoned side of each chicken piece. Roll up jelly-roll style. Place chicken rolls in a 9-in microwave safe pie plate. Cook, uncovered, on high for 3 to 5 minutes or till chicken is done, giving the pie plate a half turn and rearranging once during cooking. If desired, serve chicken on yogurt or sour cream; sprinkle with almonds and chives..


Chicken Tetrazini

Ingredients:

1/2 lb elbow macaroni
3 T butter
1 clove garlic, minced
1 medium onion, chopped
2 T flour
2 C Chicken broth or stock, hot
1/2 C milk, half and half, or cream
2 T dry vermouth or sherry (optional)
1/2 lb fresh mushrooms, sliced
1 t lemon juice
1/2 t salt
1/4 t pepper
2 C turkey or chicken, cooked and shredded or diced
1 C parmesan cheese, grated
Directions:

On stove top, heat water to boiling. Cook macaroni till al dente.
Meanwhile, in a 2-quart casserole mix butter, garlic and onion. Microwave 1-3 minutes, until onion is tender.
Stir in flour until dissolved and smooth. Pour in hot broth, a little at a time, whisking or stirring to keep the sauce smooth., Pour in the milk or cream and vermouth or sherry. Microwave 8-10 minutes, until boiling but only slightly thickened, stirring twice.
Stir in the mushrooms, lemon juice, salt, pepper, chicken or turkey and drained macaroni.
Stir in 1/2 cup parmesan cheese. Cover with wax paper and microwave 5 minutes. Stir. Microwave another 5 minutes. Sprinkle remaining cheese on top. Microwave uncovered 4-6 minutes, until heated through. Makes 4-6 servings
Cod Chowder



1-1/2 lbs. cod fillets, thawed if necessary
1 cup each chopped onion and chopped zucchini
1 large clove garlic, minced
1/4 cup oil
1 can (14-1/2 to 16 oz.) tomatoes
2 cups tomato juice
1/3 cup dry white wine or water
3/4 tsp. each salt and basil, crushed
Generous dash bottled hot pepper sauce Cut cod into large chunks. Sauté onion, zucchini and garlic in oil. Add tomatoes, tomato juice, wine and seasonings. Heat to boiling. Add cod; simmer, covered, about 10 minutes or until cod flakes easily when tested with a fork. Makes about 6 servings. Recipe may be halved.

Microwave Method
Cut cod into large chunks. Combine onion, zucchini, garlic and oil in 3-1/2 quart microwave proof dish. Microwave, covered, at high 4 minutes or until onion is tender. Add tomatoes, tomato juice, wine and seasonings. Microwave, covered, at high 4 minutes or until boiling. Add cod. Microwave, covered, at high 4 minutes; stir. Microwave, covered, at high 4 to 6 minutes longer or until cod flakes easily when tested with a fork. Makes about 6 servings.


Meat Loaf

Yield: 4 Servings

1 lb Ground chuck
1 Egg
2 t Quick-cooking oats
1 can Tomato sauce (8-ounce)
1/4 t Dried thyme
1/4 t Dried Marjoram
1/2 t Celery salt
1 t Brown sugar
1 t Worcestershire sauce
1 t mustard


In a medium bowl, combine meat, eggs, oats, onion, half the tomato sauce, thyme, marjoram and celery salt. Shape into a loaf to fit a 9x5 loaf pan. Shape the loaf so meat does not touch sides of the dish. Cover with waxed paper. Microwave at full for 5 minutes. Pour off juices.

Stir brown sugar, Worcestershire sauce and mustard into remaining tomato sauce. Spoon tomato glaze over the loaf coating the entire top and sides. Give the dish a half turn. Cover with waxed paper. Microwave at 30% for 17 to 20 minutes or until a microwave meat thermometer inserted in the center of the loaf registers 170F. Cover with foil and let stand 5 minutes. temperatures will rise about 10F during stand time.



Poached Salmon with Cucumber Sauce


1 cup water
1/2 cup dry white wine
1 small onion, sliced
2 sprigs parsley
5 peppercorns
1/4 tsp. salt

4 (4-6 oz. each) Alaska Salmon steaks or fillets, thawed if necessary In 1-quart microwave-safe dish combine all ingredients except salmon steaks; mix well. nuke, covered with vented plastic wrap, on MEDIUM-HIGH (70%) for 5-6 minutes or until fish flakes when tested with a fork. Carefully remove salmon from liquid. Serve hot or cold. To serve cold, refrigerate until ready to serve. Serve with Cucumber Sauce. Makes 4 servings.

Cucumber Sauce: Combine 1/2 cup sour half-&-half or plain yogurt, 1/3 cup seeded and finely chopped cucumber, 1 tablespoon minced onion and 1/4 teaspoon each salt and crushed basil; mix well. Sauce can be made ahead and refrigerated. Makes about 2/3 cup.



SALMON ROMANOFF

6 oz. dry pasta
1/2 pint sour half-&-half
1/2 package (3/4 oz.) dry ranch-style-dressing mix
1 can (7-1/2 oz.) Alaska Salmon, drained and flaked
1 can (4 oz.) sliced mushrooms, drained
3 tbsp. chopped green onions
1/2 tsp. dill weed Cook pasta according to package directions; drain. Combine all ingredients; mix well. Spoon into buttered 1 1/2 quart microwave-safe dish. Nuke on MEDIUM-HIGH (70%) for 5-6 minutes or until thoroughly heated. Stir before serving. Makes 4 servings.







SCALLOPED POTATOES and POLISH SAUSAGE

Ingredients:

4-5 medium potatoes, peeled and sliced thin
1 medium onion, peeled and sliced thin
salt and pepper to taste
1 lb Polish Sausage
Cheese Sauce
2 T butter or margarine
2 T flour
1 C milk
2 T white wine
1 C shredded sharp cheddar or American cheese
dash of salt and pepper

In measuring cup microwave butter or margarine 45- 50 seconds, until melted. Stir in flour until smooth. Stir in milk and wine. Continue stirring until well blended. Microwave 4-6 minutes, stirring every 2 minutes until thick.
Once sauce is thick enough to coat a spoon, blend in cheese, salt, and pepper. Microwave 1-2 minutes, until cheese melts. Set aside.
In 3-quart casserole dish, layer 1/4 of the potatoes and onion slices, sprinkle on salt and pepper, and pour 1/4 of cheese sauce on top. Continue layering until all ingredients are used, ending with cheese sauce.
Elevate flat bottomed dish on inverted saucer and place on turntable if available (if not, rotate dish 1/4 turn every five minutes). Microwave 5 minutes. Reduce to medium (50%) power and microwave 15-20 minutes, until potatoes are almost fork-tender.
Cut sausages into chunks or, if they are in links, pierce them to keep from exploding, and arrange on top of potatoes. Microwave 4-7 minutes until sausages are done, rotating dish 1/2 turn every 3 minutes.
Let stand, covered with wax paper, for 5 minutes. Serve with green beans or okra . Serves 4 people.



Shepherd's Pie

Ingredients:

2 C cubed potatoes
3/4 C milk
1 lb lean ground beef or lamb
1 egg, lightly beaten, or 1/4 cup egg substitute
1/2 C dry breadcrumbs
2 T onion finely chopped
1/8 t black pepper
1/8 t nutmeg
1/2 C chopped broccoli
1/2 C sliced carrots
1/2 C chopped cauliflower
1/4 C Chopped onions
2 T chopped scallions
2 T tomato sauce
1/2 C shredded cheddar
Place the potatoes in a 2-quart saucepan with cold water to cover. bring to a boil and cook until tender, about 10-12 minutes. Drain. Add 1/4 cup of the milk and mash well. Set aside.
In a large bowl mix the beef , egg, breadcrumbs, 2 tablespoons onions, pepper, nutmeg, and remaining 1/2 cup milk until well blended. Press the mixture over the bottom and up the sides of a 9" pie plate. Cover loosely with wax paper.
Microwave on high for 5-7 minutes, or until the meat is no longer pink. Carefully drain off any accumulated fat.
In a deep 1-quart casserole, combine the broccoli, carrots, cauliflower, 1/4 chopped onions, scallions, and tomato sauce. Cover with a lid. Microwave on high for 4-5 minutes, or until crisp-tender.
To assemble the pie, spread the mashed potatoes over the meat. Top with the vegetables and sprinkle with the cheese. Microwave on high for 2-3 minutes, or until the cheese is melted and the pie is hot throughout. Cut into wedges and serve. Six servings
Sloppy Joe's


l lb. lean beef
1/2 cup chopped onion
1/3 cup catsup
1 tablespoon brown sugar
2 teaspoon vinegar
1 teaspoon prepared mustard
1/2 teaspoon Worcestershire sauce
1/2 teaspoon salt
4 hamburger buns

Combine onion and beef in colander, if available, or microwave casserole. Cook on High power (100%) for 3-5 minutes, stirring once or twice, to crumble the beef. Place drained onion and hamburger mixture into 2 quart casserole. Add the remaining ingredients, except for the buns. Blend well and heat on High power (100%) for about 3 minutes, or until very hot and heated through. Spoon meat mixture onto buns and serve. Serves 4
SWEET-SOUR MEATBALLS

1 1/2 lb. lean ground beef

1 egg

1/2 c. water

1/2 c. fine dry bread crumbs

1 bottle chili sauce

6 oz. grape jelly

2 tbsp. lemon juice

Mix hamburger, egg, bread crumbs and water until well blended. In deep 3-quart casserole, combine chili sauce, grape jelly and lemon juice. Shape meat mixture into small meatballs and place in sauce mixture. Heat 12 minutes on full power, skim off fat, stir. Heat 8 minutes on full power until sauce bubbles and meatballs are cooked